Staalbouwwedstrijd 2018 - laureaten bekendgemaakt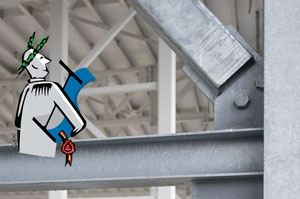 De Staalbouwwedstrijd wordt jaarlijks georganiseerd beurtelings in België en in Luxemburg en is aan zijn negentiende editie toe. De deelname aan de Staalbouwwedstrijd 2018 stond open voor bouwprojecten op Belgische bodem (uitgezonderd categorie E - internationale projecten) die volledig of gedeeltelijk in staal gerealiseerd werden tussen juni 2016 en eind mei 2018.
Er namen 117 projecten deel aan deze editie. De jury nomineerde 24 projecten in 6 categoriën. 6 laureaten werden aangeduid.
De jury bestond uit :
Francois Valentiny - Valentiny HVP-architectes - voorzitter
Robrecht Keersmaekers - UHasselt
Véronique Dehan - ECCS (European Convention Constructional Steelwork)
Valérie Huet - CRM group
Tom Molkens - KU Leuven
Op de Staalbouwdag van 8 november ll werd door de aanwezigen ook een Prijs van het Publiek gekozen. Deze ging naar de Parkbrug in Antwerpen, een ontwerp van Ney and Partners. Dit project werd eveneens genomineerd in categorie D, zie hieronder.
6 laureaten & Prijs van het Publiek
Categorie A: Utiliteitsbouw
Categorie B: Residentiële gebouwen
Categorie C: Karakteristieke elementen in staal
Categorie D: Burgerlijke bouwkunde
Categorie E: Internationale projecten
Categorie F: Industriebouw
Prijs van het Publiek
Info, magazine en vorige edities :
Tags: staalbouwwedstrijd |